Our brand new portable mini exercise bike is the perfect fitness machine for leg and arm workout! This creatively designed bike is ideal for working out while watching TV, reading a book, or at work. This machine will strengthen and tone up your legs and arms while also providing you with a great cardio workout. The multi-function LCD screen shows time, distance, total counts, and calories. You can always find the perfect resistance level for your workout with the adjustable tension level. Get one now!
EASY TO CARRY

With a carrying handle, you can take it to your office for some relaxation. When you are under pressure or anxious, do some exercise on the bike. Using it with your arms or legs, you'll focus on what you are doing and forget all the trifles.

FUNCTION OF REHABILITATION & EXTRA SAFETY

Sporting a function of rehabilitation, this bike is ideal for people who just come out of the hospital and want to do some exercise to rehabilitate. It has rubber feet making this bike anti-skid. There is also an additional non-slip mat for extra safety. We provide reliable products and bring benefits to you. This bike will definitely help people in need to grow better daily.

REMOTE CONTROL & LCD DISPLAY

It can be used with a remote. Turn on the bike and it is in standby mode. Then, you can control the exerciser by a remote or on the LCD screen. The time in standby mode can be adjusted from 1 to 30 minutes.
The easy-to-read LCD display shows the speed you are going, the distance you have gone, the time you have been exercising, and the number of calories you have burnt.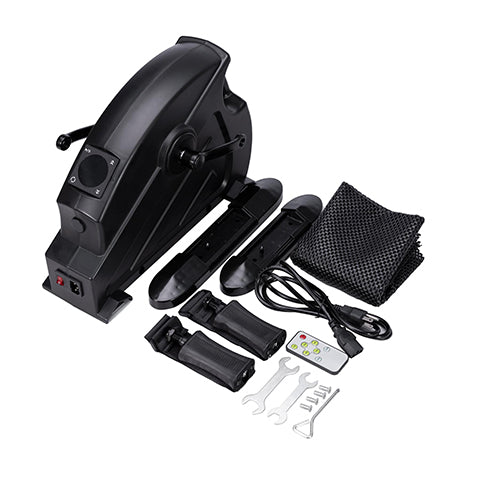 Package includes
1x Pedal Exerciser (including the feet and pedals)
4x Screws (for the feet)
2x Wrench (for pedals)
1x non-skid mat
1x user manual
Specifications
Voltage: 110V
Power capacity: 70W
Color: Black