Looking for ideal home workout equipment? Why not try this Zelus folding smart digital treadmill? With its unique all-in-one console and superior shock absorption, this treadmill will absolutely make you enjoy running to the fullest!
Features
POWERFUL MOTOR & FRAME: This Zelus treadmill includes a 3 hp (2230W) motor to give you smooth operation all the way up to its top speed of 7.5 mph; the steel frame provides ample support at any speed for users up to 220 lb.
SUPERIOR SHOCK ABSORPTION: Protect your knees as you strengthen your heart thanks to the five layers of this foldable treadmill's spacious 4x1.3ft. antiskid running belt and its sophisticated magnetic shock dampening system
EASY TO USE: This gym equipment for home use unfolds out of the box and treadmill assembly is as easy as tightening four support bolts into place; the LCD display tracks your speed, time, distance, calories, and heart rate (via the built-in sensors) as well as controlling 5 modes and 12 built-in programs; this treadmill also folds to a compact sixth of its normal size and rolls away for easy storage without harm to your floor
BLUETOOTH ACCESSIBLE: One connection allows this fitness equipment's integrated Bluetooth speaker to play music from your phone or tablet while held by the provided bracket and charged through the built-in USB port; a second connection hooks into SmartTreadmill (included!) and other fitness apps to provide greater exercise control and easier recording of your workout and health data
SATISFACTION GUARANTEED: Order with peace of mind, knowing that Zelus's usual strong warranty and friendly 24/7 customer service are standing by to ensure your home treadmill provides years of service
WARRANTY

: Order today, knowing that your purchase is guaranteed by a two-year warranty on the structural frame and a one year warranty for the other parts and components (i.e. safety key)

 

and friendly 24/7 customer service
PS: Lubricating oil is not included.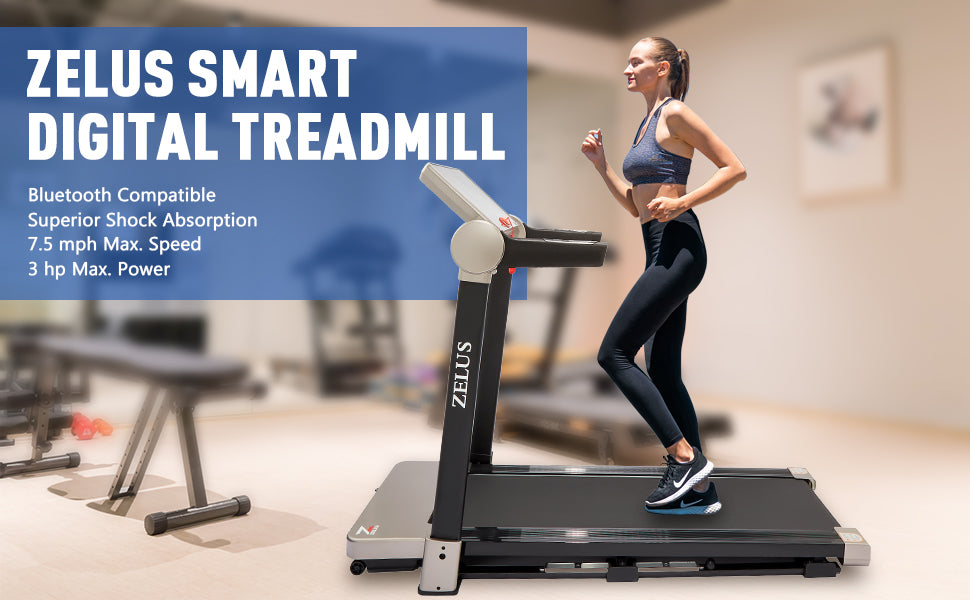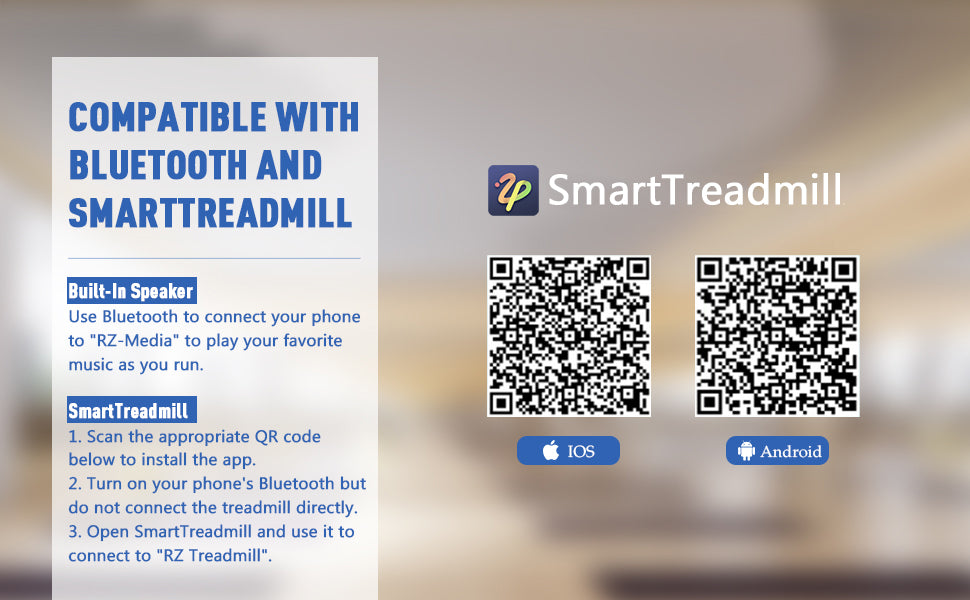 No time or space for outdoor running? Too busy to take care of your body? Maybe it's time for you to try our treadmill! The spacious running area, holder device, and USB port better encourage you to do a workout. The latest in tech innovation comes with SmartTreadmill, a smart app to see your workout conditions as well as to control the treadmill. With the foldable design, this running machine can be folded to 58.4x29.0x7.5 in. for simple storage. Touch screen control, preset programs, and multiple speed levels ensure a proper workout plan without sacrificing efficiency. Go get a calorie-burning, heart-healthy workout right at home with Zelus treadmill!