Features:

QUIET DUAL MOTORS - Our latest vibration machine features dual 200W motors for improved reliability, built-in three vibration modes, horizontal, up-down and Left-right vibration; 3D oscillation movements, left-right, and up-down to effectively shake your body to achieve ultimate results, and the ultra-quiet motor will NOT disturb your family

USER-FRIENDLY DESIGNS - The easy-to-operate LED screen displays time and speed for you to conveniently adjust workout intensity, while the complimentary remote control allows users to control time, speed, and on/off without any additional effort, the non-skid feet along with multiple circuit protection system add extra safety, the handle makes it easy to carry around

VERSATILE & ADJUSTABLE - Adjustable vibration speed (120-levels) to suit different vibration intensity, comes with two removable resistance bands to help work out your arms and upper body to achieve a sexier shape

DURABLE & COMPACT - Our vibration plate is 100% safe with solid ABS construction for superior shock-resistant and corrosion-resistant performance; rated weight capacity of 330 lb. to accommodate almost every potential user, portable dimensions make it super easily tucked away

KEEP YOU IN SHAPE - The revolutionary 3D oscillating motion technology helps you to get in the shape you want by burning more calories, proved to help improve flexibility, toning and building muscle, a perfect tool to keep you in shape and healthy
Specification:
Power: 400W

Voltage: 110V

Capacity: 330lb.

Color: Black
Package List:
Our ZELUS dual motors vibration platform is a great compact machine that will help you improve your stamina, circulation, general fitness, and increase bone density. The whole body vibration machine creates a high frequency vibration that causes a stretch reflex, making your muscles contract involuntarily and tones with minimal movement.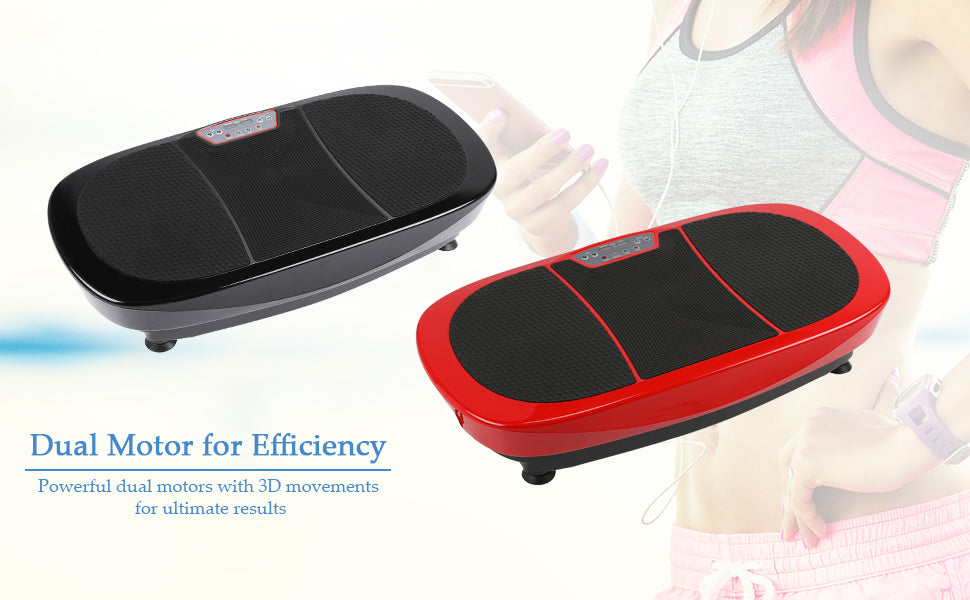 Vibration Platform Training provides a lot of benefits including but not limited to
Strengthens Bones and Muscles——Exercising on a vibration plate causes your muscles to contract 30 to 50 times a second. Unlike other forms of exercise which work on only about 40% of your muscle fibers, vibration plate training works on up to 90% of your muscle fibers to help you strengthen muscles and develop more muscle tissue.
Stimulates Production of Helpful Hormone——Vibration plate training will encourage your body to produce increased levels of human growth hormone, which helps in the repair and regeneration of damaged muscles, bones and other tissues.
Improves Immune Function——The high levels of muscle contractions you'll experience during vibration plate training will stimulate your lymph glands, leading to increased flow of lymph throughout the body and a stronger immune system.
Raises Metabolism——Like any other form of exercise, vibration plate training raises your metabolism. As your muscles get stronger, they use fuel more efficiently, and as your blood circulation improves you'll have more energy.
Strengthens Joints and Relieves Pain——The vibration plate's movements help to strengthen the muscles of your hip flexor and core, to stabilize your entire body and strengthen your spine.