Get running right away with the ZELUS Foldable Treadmill. Cut the stress out by enjoying jogging - because any room can be a home gym!
Features:
STEEL CONSTRUCTION FOR HIGH CAPACITY & SECURITY: steel frame provides 250 lb. capacity and superior security; 5-layer runway (39.3" x 13.4") provides ample running space and better absorbs shock, perfectly accommodating different users' needs in losing weight, cardio, crab walk, side shuffles, getting in shape and more.

LED DISPLAY, INTEGRATED MP3 PLAYER & CUP HOLDER: Integrated LED display keeps tracking your speed, workout time, distance, calories, and pulse; built-in MP3 player allows you to enjoy your favorite music while workout; 2 cup holders allow you to keep hydrated after intensive exercises;
APP CONTROL & SMART SYSTEM: Get your personal trainer & health report as well as control the running machine through the Bluetooth APP, Android and IOS system compatible; designed with 0.5 - 6mph speed levels and 12 programs, so you can select different speed and programs base on your physical condition and index;
FOLDABLE DESIGN: This running machine can be folded to 52.4" x 23.2" x 22.0" for simple storage; 1 locking pin helps to lock the running platform firmly while it is folded and the other pin supports the running deck with superb stability while the treadmill is working
SAFETY & CONVENIENCE: Anti-skid side belts and safety key provide intensive defense for your safety; 4 anti-slip feet offer outstanding security during running; 2 front wheels ensure simple transportation and provide optimal protection for your floor
WARRANTY: Order today, knowing that your purchase is guaranteed by a two-year warranty on the structural frame and a one year warranty for the other parts and components (i.e. safety key) and friendly 24/7 customer service
PS: Lubricating oil is not included.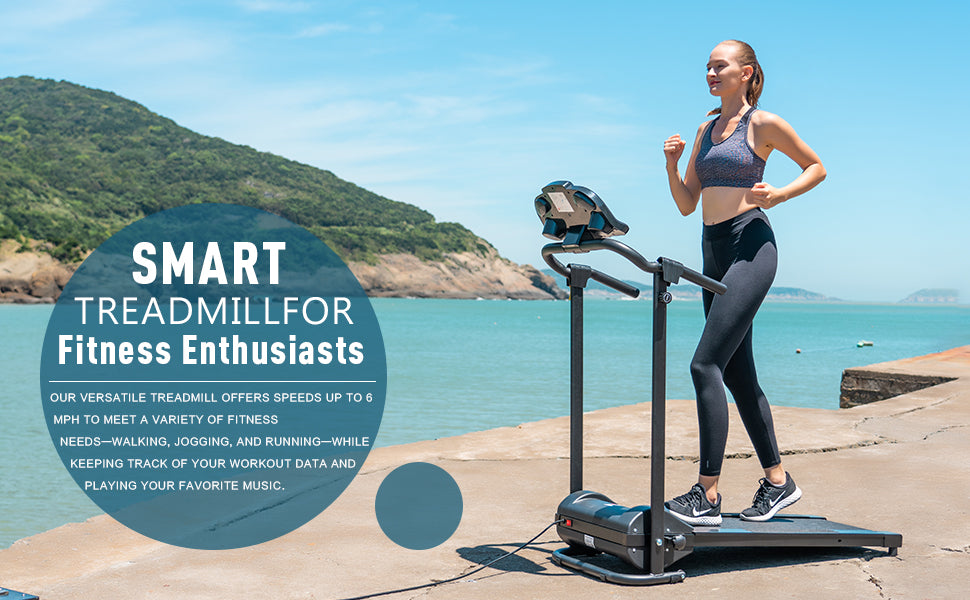 Built to handle the toughest of workouts, durable steel frame construction offers stability and support for up to 220 lbs. Designed with 0.6 - 6 mph speed levels and 12 pre-programmed workouts.
Customize your training & get detailed health reports with the Fit Show application. Compatible with both Android and iOS system; this Bluetooth app allows you to control your treadmills speed controls, presets, and workout programs.

The ZELUS Foldable Incline Treadmill with Fit Show offers superior value, high-performance workouts, and portable storage in a compact package. Transform your daily exercise routine with detailed health and training reports from our Fit Show app. Simply connect via Bluetooth with your Android or iOS smartphone, choose your workout program, and start training.