Work out your whole body
Battle ropes are the ultimate strength and conditioning tools! Get an intense full body workout while building muscular endurance and cardiovascular conditioning. Extremely easy to setup--just wrap it around something and get to work!

The advantages of battle ropes include but not limited to
Ropes Provide a Dual-force Dynamic Effect to Improve Physiological Response

Less Injuries and More Results

Making Weak Body Parts Strong

Improve your mobility

Improve your stability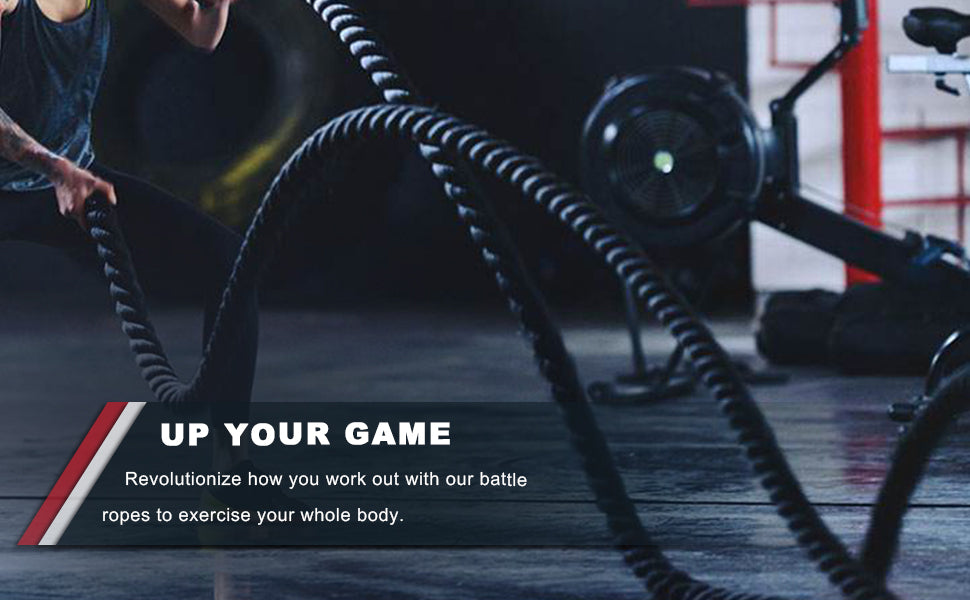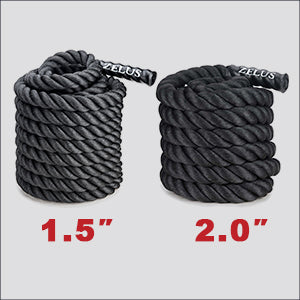 Tips on Choosing the Right Rope for You
What diameter?
The rope diameter can affect the type of workout you will get. Are you trying to get a heart pumping, high intensity, speedy workout, or are you looking to add some muscle and bulk with a grueling strength workout?
If you're into the HIIT training, cardio blasting workout we described above you're going to want a 1.5" diameter battle rope. These ropes will allow you to go hard, maintain a solid grip, and will fit perfectly into a circuit training workout.
If building muscles is your priority, and you're prepared to perform a workout that feels more like a bench press than wind sprints, the 2.0" battle rope is for you. These ropes are 35% larger than the 1.5" ropes and require a larger hand and stronger grip to maintain control of the battle rope.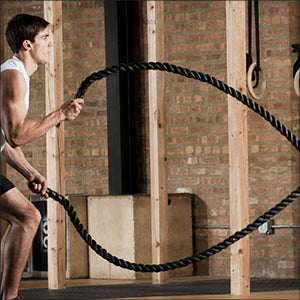 Versatile and Effective
Battle ropes are often thought of as a tool for your upper body, which they are. However, their benefits don't end there. Battle rope workouts work the muscles in your abs, back, and glutes, and you can incorporate movements, such as jumps, lunges, and squats, that work your legs. So battle ropes are perfect to work out your whole body and keep you in shape.



Ergonomic Handles

The ergonomically designed handles ensure ultimate comfort and safety, and the heat shrink caps on the ends help keep its shape, protecting your hands and help you get a better grip.




Durable Polyester Construction

Made of ultra-durable polyester, our multi-strand ropes provide superior sturdiness, will last for years to come.
Please avoid the use on the rough ground, which will shorten the service life.
Please shake the string when holding the string straight to restore it to its original soft status.




Anchor Strap Kit

Each battle rope is equipped with an anchor strap kit which saves money on accessories. The strap kit prevents the battle rope from fraying and scratching, and helps extend its life by connecting the anchor strap to fixed or weighted points.