Zelus' adjustable baseball batting tee provides you with the most effective way to practice your batting technique and perfect your power swings, with its exact positioning ability and great flexibility.
Features:
BALL REST REDUCES SWING RESISTANCE, the ball rest is constructed of 1.8mm rubber, which minimizes swing resistance and maximizes durability.

ADJUSTABLE & FLEXIBLE BATTING TEE, this batting tee can be adjusted to all areas of the strike zone; and the height of this baseball batting tee can be adjustable between 27.8" - 47.5", perfect for users of all ages.

PORTABLE, this portable travel softball batting tee can be collapsed for easy transportation. Easily fits in any size car!

THICKENED STEEL TUBES FOR DURABILITY, the solid bracket made of 1mm thick & 7/8" diam. steel tube can keep the tee in place and stand up to extreme outdoor environment; steel tubes in baking finish always stay from rust and corrosion, which allows this batting tee to serve you for many years to go.

1-YEAR WARRANTY, Order today, knowing that your purchase is guaranteed by Zelus' one-year warranty and friendly 24/7 customer service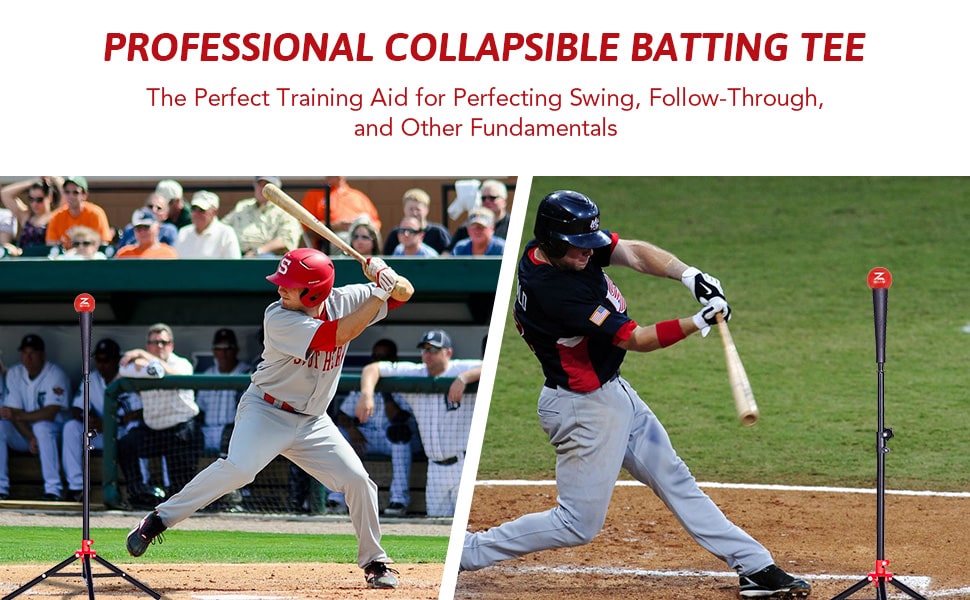 Stable & Adjustable

Your batting tee's unique design locks the frame and base tightly for added stability while the handy knob varies the tee's height from 28 to 47½ inches to accommodate batters of all heights.




Superior Design

This portable batting tripod assembles in minutes with no tools required. It folds up just as easily to follow you everywhere from your backyard to the infield.