Zelus 4D Vibration Platform for full-body workouts is proven to help improve your flexibility, toning, burn more calories and build muscle - a perfect workout product to keep you in shape and healthy!
Features:

Four Ways to Shake - They say good things come in threes, but here, good vibrations come in fours. To keep your workouts varied, the plate features four separate vibration modes: up-and-down linear vibration, side-to-side oscillation, massaging micro-oscillation, and a 4D option that combines vibration, oscillation, and massaging into one. With that many options, you can be sure there will always be a whole lot of shaking going on.
Work It Out Your Way - There's no one-size fit for fitness, which is why this plate serves up options for your exercises. Select from one of three pre-set programs to launch into a workout right away, or go at it from a customized angle by creating up to 96 different manual combinations. Talk about making it easy to shake up your fitness routine!
Bluetooth for Your Tunes - Get in sync while you exercise with this platform's Bluetooth connection. A great way to amp up your workout, the machine pairs with your device to stream music directly from its built-in speakers. Plus, light strips fitted into the sides flash and pulse along with your tunes for added effect—glowing even brighter the louder the jams play.
You're in Control - Plenty of options aren't much good without a smart control scheme. Luckily, our exercise plate gives you two simple interfaces to change the machine's settings. For a straightforward approach, just operate the easy-to-read panel attached to the device. Or, change things up more fluidly using the included wrist remote control. That's a combination that puts the power in your hand, and at your feet.
Ahead of the Curve - Step up to a smart, ergonomic design with the sleek curved surface on the plate, specially designed to enhance your fitness routine in the most comfortable way possible. For an even better workout, make use of the included two resistance bands to engage in exercise that speeds up your metabolism, improves circulation, improves bone density, and—most importantly—helps to keep you fit.
WARRANTY - Order today, knowing that your purchase is guaranteed by a two-year warranty on the structural frame and a one year warranty for the other parts and components (i.e. resistance bands)

 

and friendly 24/7 customer service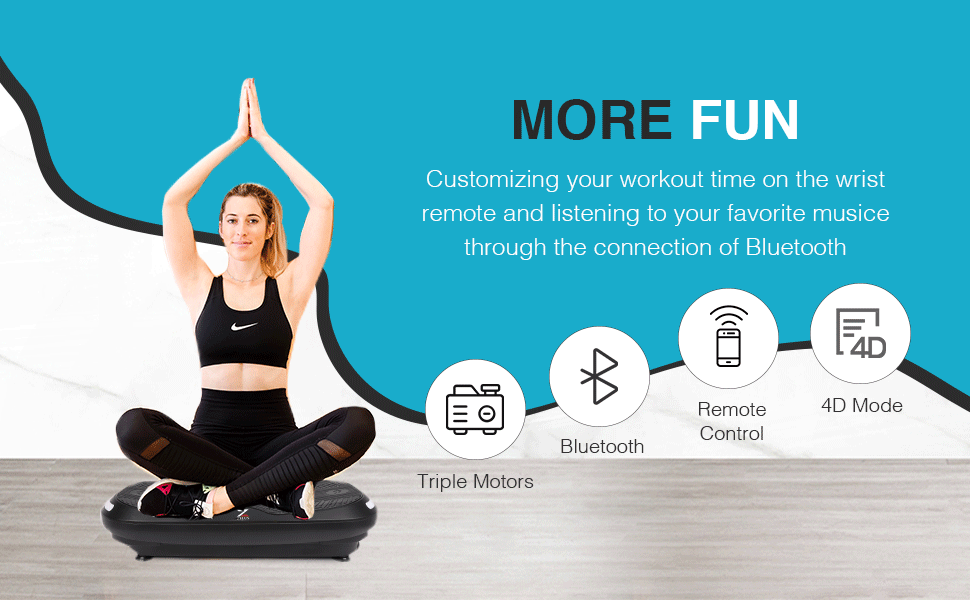 Manage every second of your exercise with the utmost ease using the built-in LED display that actively tracks your workout time and intensity levels, and features an intuitive touchscreen interface for added control. Use Bluetooth connectivity to stream music while light strips mounted on the side of the plate flash and pulse with an intensity tied to the music's volume. Plus, the ergonomically-curved vibration plate offers a comfortable seat as well as a natural-feeling platform to stand on with its slope and bulge in the center. Enjoy low-intensity exercise that speeds up your metabolism, increases circulation, improves bone density, and—most importantly—helps to keep you fit. Mix fitness, muscle therapy, and massages into one streamlined device with the 4D Vibration Exercise Platform.
Wrist remote control & LED display

2 options for convenient control: the built-in digital controller, and the wristwatch style remote.
Control vibration intensity, workout time, vibration type, or cycle through the preset programs.
Track your workout with the bright LCD display.

Bluetooth & Light Strips

Get in sync while you exercise with this platform's Bluetooth connection. The machine will keep playing music while you burn calories.
When playing music, light strips on two sides will flash. The louder the music, the brighter the light.
Note: If you cannot connect to the Bluetooth, please reboot the machine.

Ergonomic Surface with Hip Curve

Vibration plate with comfortable contours to fit your body's natural curves.
Specially designed to maximize your results in both sitting and standing positions.